Team Apparel – Sublimation
At Graphic Creation Team Apparel we offer the highest quality in Corporate, Performance and sports leisure sportswear.
Its amazing what can be achieved for your brand by custom team & group sublimated apparel.  With a team of experts behind us we have full confidence to provide you with a quality garment.
Check out our Design your Own Templates, or get us to design something for you.
Every team, be it business, school or sports club represents as a team – united in their own story and identity, united by their own brand.
Please browse our Gallery as well as FAQ for Team Apparel and Team Apparel Sizing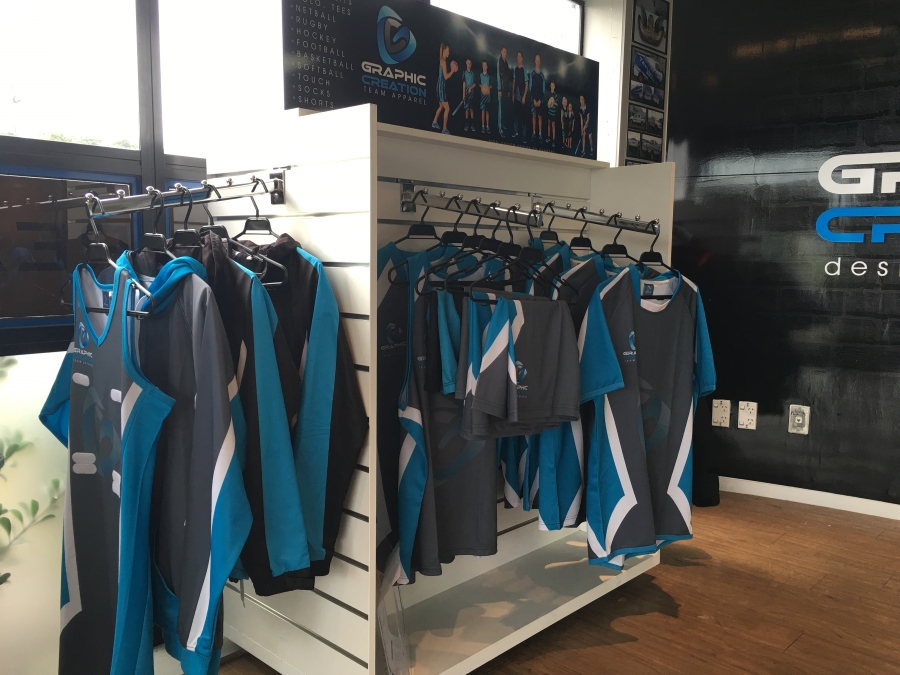 FREE DESIGN FOR YOUR GARMENT
QUOTATIONS
ALL CLIENTS LOGO'S ON GARMENT – LOGO'S TO BE SUPPLIED
INDIVIDUAL NAME ON GARMENT
100% CUSTOM SULBLIMATED DESIGN ON GARMENT
For
CORPORATE
TRACKSUITS
POLO, TEES
NETBALL
RUBY
HOCKEY
FOOTBALL
BASKETBALL
SOFTBALL
TOUCH
SHORTS
SOCKS
CRICKET
Heat Press & Screen printing.

HEAT PRESSED – SCREENPRINTING – EMBROIDERY
Fashion Industry / Sports and Accessories / Corporate Apparel
Graphic Creation provide all options of apparel printing and embroidery.
Screenprinting is great for large runs, and best when the image or logo isn't a digital print.
Heat pressing we often use when they are small numbers or the logo requires to be Digitally Printed (and unable to screenprint).
Embroidery is commonly used for small area's of apparel (pockets, sleeves, caps) or when a professional long lasting approach is required.
We print small runs for single promotions up to large events of many thousands.
The Corporate printing we regularly do includes T shirts, Polos, Caps, Towels, Aprons, Jackets, Track pants and Tablecloths.
Safety has become a big issue today. As well as fluro Safety Jackets, we print Heavy Wool Jerseys, for forestry. Rain Wear and Vinyl Aprons, with both sponsors logos and safety stripes.
If you would like to work with people who deliver what you ask for, on time, and for a fair price don't look past us!