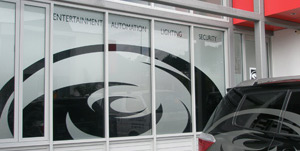 High impact, professional looking Window Graphics & Etching can be an integral part of your overall business marketing and it should not be over looked.
Graphic Creation can design, produce and apply what ever your requirements – whether it be for Building Regulations – vision strips, opening hours, privacy (bathroom windows) sun protection, Conference, meeting rooms or a piece of Artwork in your Staircase Window – we can do it!
Call us today on 09 443 8615 to discuss.